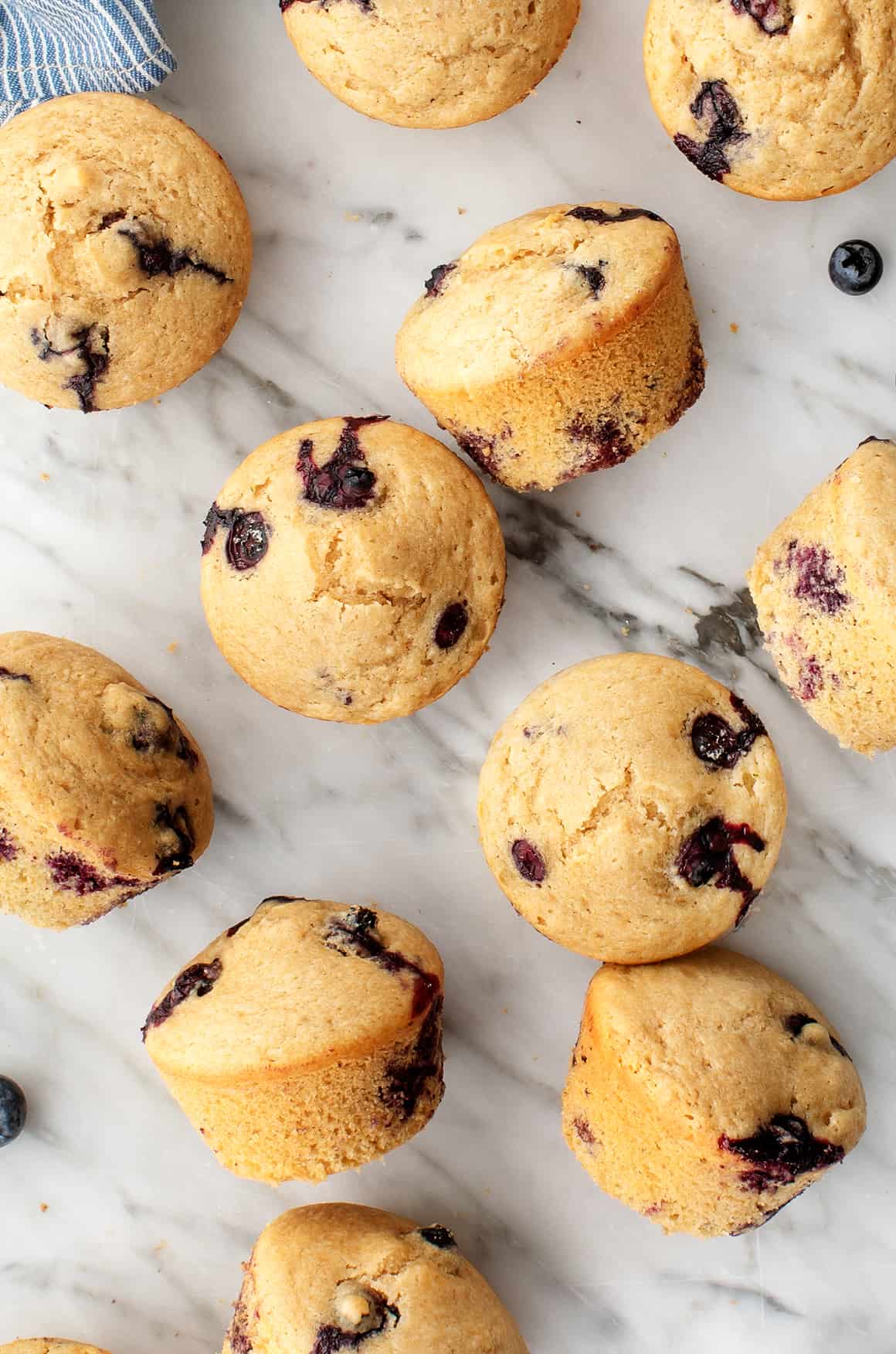 This summer, after bringing home pints of blueberries from the farmers market, I set out to make a blueberry muffin recipe I would really love. See, I adore baked fruit in almost any form (see here, here, or here), but most sweet, cake-y blueberry muffins are too rich for me to enjoy for more than a few bites. For me, the ideal blueberry muffins aren't too sweet, and they're deeply flavorful and moist. Most importantly, they put bursty, peak-season berries front and center.
Enter: the perfect homemade blueberry muffins. These moist, fluffy little guys are loaded with juicy, jammy berries, and a pinch of cinnamon gives them extra depth of flavor. I love to devour one for breakfast or an afternoon snack, and they'd be perfect for packing into lunchboxes or taking on the go. We've had this recipe on repeat around here for the last few weeks. I hope you love it as much as we do!
My Healthy Blueberry Muffin Recipe
These blueberry muffins are yummy, but they're secretly healthy too! Here's what makes them so darn good (and good for you):
Whole wheat pastry flour and almond flour. This mix yields an amazing moist texture. Be sure to look for whole wheat pastry flour here – it has more nutrients than all-purpose flour, but it's more finely ground than regular whole wheat flour, which can make baked goods dense.
Extra-virgin olive oil. Just 1/4 cup adds the perfect amount of richness.
A little cane sugar. Most blueberry muffin recipes call for a cup or more of granulated sugar. I use much less so that my lightly sweet batter really lets the sweetness from the blueberries shine.
Vanilla and cinnamon. They add warm depth of flavor.
Fresh blueberries, of course! They're loaded with antioxidants and fiber. Plus, after a few minutes in the oven, they become deliciously bursty and sweet.
To round out these easy blueberry muffins, I use eggs, baking powder, sea salt, and almond milk (regular milk works too!). This combination yields delectable, fluffy muffins, and they're healthy enough that you can feel good about enjoying one (or two) for breakfast.
Once you assemble your ingredients, whisk together the wet ingredients in one bowl and the dry ingredients in another.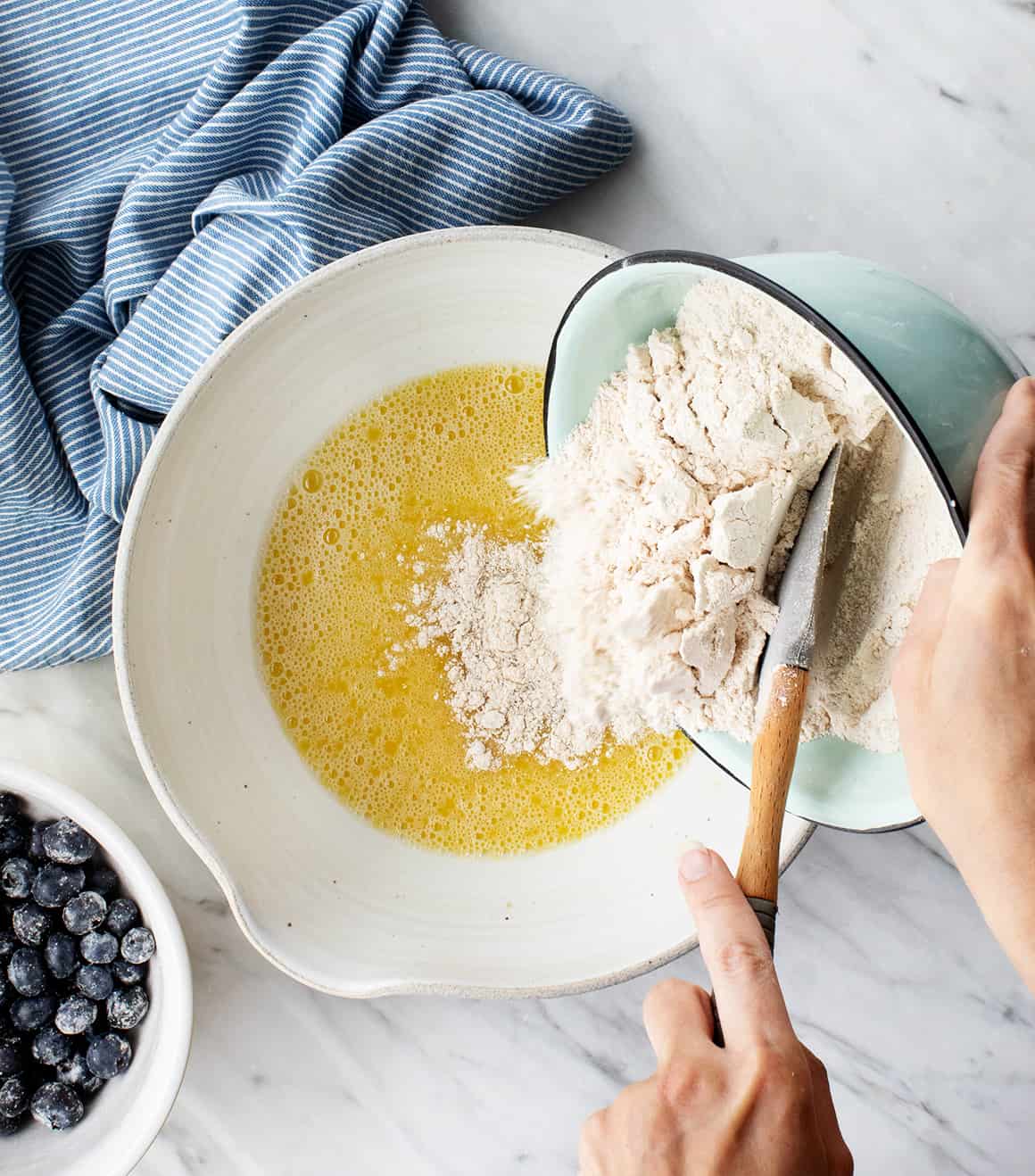 Pour the dry ingredients into the wet ingredients, and mix until just combined. Then, toss the blueberries with a bit of flour, and gently fold them into the batter.
Pour the muffin batter into a greased muffin pan, and bake until the tops spring back to the touch and/or a toothpick inserted comes out clean. I always eat one straight out of the oven, but if you can resist them, their flavor is even better when they've cooled to room temperature. Enjoy!
Best Blueberry Muffins Tips
Toss the blueberries with a pinch of flour. Lightly coating the blueberries in flour before you fold them into the batter helps them stay suspended in the muffins. That way, you get a few blueberries in every bite instead of ending up with a big pile of berries on the bottom.
Add lemon oil! These healthy blueberry muffins are still good without it, but a little lemon oil adds a delightful bright flavor. If you don't have lemon oil, a teaspoon of lemon zest would be great too.
Don't overmix. If you bake often, this goes without saying, but if you're new to muffin-making, be sure to mix your batter until just combined. Overmixing will make your muffins dense and tough.
Make a double batch, and freeze the extras! These muffins freeze perfectly, so make a big batch in one go. Then, keep a stash on hand in the freezer for on-the-go breakfasts and quick snacks! You'll thank yourself later.

If you love these healthy blueberry muffins…
Try my banana muffins, blueberry scones, chocolate zucchini bread, or banana bread next, or head over to this post for more of my favorite quick breakfast ideas!
Click here to browse more recipes!
The post Blueberry Muffins appeared first on Love and Lemons.